Seasonal Produce
All products subject to seasonal availability. Please contact us to find out more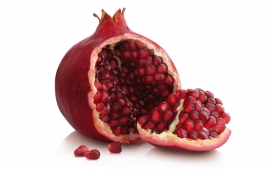 Pomegranate
The seeds of the pomegranate fruit are sweet, juicy and bursting with flavor. Sprinkled in salads, in fruit salads, over ice cream and sorbet, the seeds add an interesting addition to any dish. The seeds are tasty eaten by themselves!
Pomegranate is derived from the latin word meaning a seeded apple. Besides looking glamour and tasting slightly bitter from sweet to sour, the pomegranate is also a healthy option on the plate, known as a blood builder and good for the heart it also counteracts a high fatty diet.
---
AMJ Produce Co. wholesale suppliers of fresh fruits and vegetables to restaurants and caterers. We specialise in sourcing and supplying hard to source fruit and vegetable lines for wholesale supply. Please contact AMJ Produce if there is something you would like us to find for you.