Seasonal Produce
All products subject to seasonal availability. Please contact us to find out more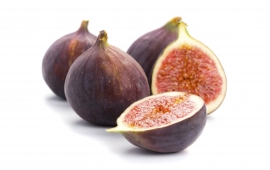 Figs
Figs are bell-shaped with slightly wrinkled, leathery skin. They can be brown, purple, green, yellow or black, and vary in size. Their high sugar content puts figs among the sweetest of fruits. Each fig 'fruit' is actually an enclosed flower head containing many tiny flowers and seeds.
Figs (ficus carica) are among the juiciest, sweetest and most fragrant fruits of late summer.
---
AMJ Produce Co. wholesale suppliers of fresh fruits and vegetables to restaurants and caterers. We specialise in sourcing and supplying hard to source fruit and vegetable lines for wholesale supply. Please contact AMJ Produce if there is something you would like us to find for you.