Seasonal Produce
All products subject to seasonal availability. Please contact us to find out more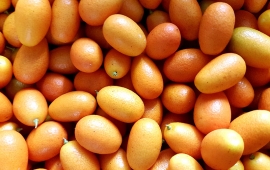 Cumquats
Cumquats have a very distinctive taste. It is the only citrus fruit that can be eaten "skin and all." The peel is the sweetest part and can be eaten separately. The pulp contains the seeds and juice, which is sour. When eaten together, you get a sweet and sour taste which is unlike anything else.
Nagami has sour flesh but the skin has a sweeter flavour. Perfect to accompany and cut through the comfort foods that we need this time of year.
---
AMJ Produce Co. wholesale suppliers of fresh fruits and vegetables to restaurants and caterers. We specialise in sourcing and supplying hard to source fruit and vegetable lines for wholesale supply. Please contact AMJ Produce if there is something you would like us to find for you.