Seasonal Produce
All products subject to seasonal availability. Please contact us to find out more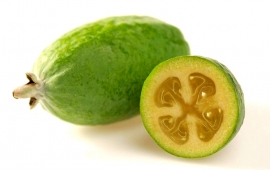 Feijoa
The flavor and fragrance of feijoa defies categorization. On sight, the fruit resembles a cross between an elongated lime and a kiwi. The nose expects to smell something green, but the immediate impression of a feijoa is a tropical melange that evokes guava, strawberry, pineapple and violet notes.
When sliced, the yielding and juicy flesh reveals a jelly-like pulp that is divided into quadrants. The flesh closest to the rind is sweet, creamy and slightly gritty. Feijoas taste exactly like they smell.
---
AMJ Produce Co. wholesale suppliers of fresh fruits and vegetables to restaurants and caterers. We specialise in sourcing and supplying hard to source fruit and vegetable lines for wholesale supply. Please contact AMJ Produce if there is something you would like us to find for you.