Seasonal Produce
All products subject to seasonal availability. Please contact us to find out more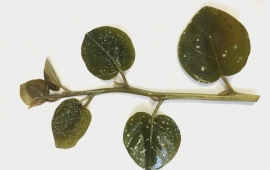 Caper Leaves in Brine
The Caper leaves will be sold in buckets with a hundred sprigs of leaves in a three litre bucket of brine approximately 6 little petite leaves per sprig. We will have around 30 of these 3 Litre buckets and Trevor feels there is around 12 month shelf life on these Caper Leaves in brine.
Oh my, the flavour is dynamic, and their look, well just beautiful and well worth the phone call to Trevor to try to get this new little caper leaf venture started.
---
AMJ Produce Co. wholesale suppliers of fresh fruits and vegetables to restaurants and caterers. We specialise in sourcing and supplying hard to source fruit and vegetable lines for wholesale supply. Please contact AMJ Produce if there is something you would like us to find for you.